Creative non-fiction writing workshop
October 14-17th, 2022
Award-winning journalist and best-selling author, Eric Weiner, is leading a workshop for Bhutanese writers interested in learning the craft of creative non-fiction writing!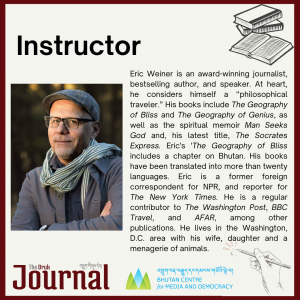 This workshop is meant for persons who have already tried non-fiction writing. It is intended to continue building a cohort of thought leaders and narratives on Bhutan in democratic times. Preference will be given to writers interested in sharpening their non-fiction writing skills and to persons who have published books and stories, or written for The Druk Journal. 
Fill in the application form https://forms.gle/PhE5Khvo3VGmu9a49 and reasons for wanting to attend the course. Limited seats available. Only successful applicants will be informed. 
Registration of Nu. 4,800/- per person for the costs of lunch refreshments and workshop needs over four days. Two scholarships at Nu.2,000/- available for undergraduate students or those who are not yet employed but who have a keen desire to improve their non fiction writing skills.
Each day will include:
● One or Two Lectures on the Writing Craft
● Group Readings of Exceptional Writing
● Guided Writing Exercises
● Time for Independent Writing, With Students on Their Own Essays
● Lunch and Tea Breaks
The workshop will invite a guest speaker, a field exercise and include tips for developing a writing practice. On the final day, participants who wish to, will share from their own writings.
The Druk Journal is a journal of thoughts and ideas and features thematic issues on matters of national significance. It is a non-partisan, twice annual publication.
Bhutan Centre for Media and Democracy (publisher of The Druk Journal) has previously conducted several creative non-fiction writing workshops to give voice to aspiring Bhutanese writers and to strengthen Bhutanese narratives. 
Location: Thimphu
Closing date: September 19th by 5pm