Conversation Report: Ensuring Mental Well-being in Bhutan
The Druk Journal released its spring issue (Volume 9, Issue 1, 2023) on the theme, Ensuring Mental Well-being in Bhutan in April this year. This issue of the journal carries 14 articles by local and international writers, discussing the shift from the traditional mindset which saw mental disturbances as incurable penalties of past negativity to the more sophisticated acknowledgement of mental health as a critical aspect of human well-being. There are more than 1,000 hard copies of the journal and more than 300 copies of the issue are being distributed to more than 197 academic institutions, ministries, political parties, constitutional agencies, schools, the media and civil society, and other agencies across the country. Distribution is ongoing (check www.druk journal.bt).
The Druk Journal is followed by conversations with a cross-section of society to deliberate on the topics covered and to gather feedback for stakeholders and policy-makers.
Two conversations were held on the 17th issue of the Druk Journal (TDJ) on Friday, April 21st in Thimphu, and Monday, April 24th, in Samtse. The conversations featured various writers and stakeholders and were moderated by the journal's editor, Dasho Kinley Dorji.
Conversation at the Khesar Gyalpo University of Medical Sciences of Bhutan (KGUMSB) in Thimphu on Friday, April 21st, 2023
Three speakers who contributed to this issue of TDJ shared their thoughts: Kezang Dukpa from The PEMA Secretariat, Tara Devi Laabar, a faculty member from KGUMSB, and Lama Shenphen Zangpo, an active supporter of youth with addiction and mental health problems.
Senior Lecturer at the Faculty of Nursing and Public Health, KGUMSB, Tara Devi Laabar (Ph.D.), highlighted the challenges and ways forward in ensuring the mental well-being of the elderly population in Bhutan. She emphasised that, with a huge number of youth leaving the country in search of better opportunities abroad, and with limited old age care facilities/services in Bhutan, the well-being of the Bhutanese elderly population should be a serious national concern.
Kezang Dukpa, Deputy Chief Counsellor at the PEMA Secretariat, explained how the secretariat is working towards proactive, consolidated, and restorative rehabilitation services and programmes.
Lama Shenphen Zangpo stressed the need for youth with addiction to be helped rather than punished. He said that, for many youths, alcohol, and substance abuse was a coping mechanism and that people should be rehabilitated, not penalised or criminalised.
Siok Sian Pek, a contributor to the issue, pointed out the need to look at mental health through a wider lens by addressing it in schools and promoting good parenting.
The Executive Director of the Bhutan Centre for Media and Democracy, Chencho Lhamu, said many students were unwilling to seek support from their teacher counsellors fearing the lack of confidentiality and trust.
Summary of Recommendations and suggestions from the speakers and audience 
There is a need for more old-age facilities for the elderly population in Bhutan.
Well-planned national policies/strategies in place to ensure the well-being of our elderly people.
School counsellors need professional guidance training. There are concerns over youth in schools not being able to seek guidance and help from the teacher counsellors due to lack of trust and confidentiality.
The need for social workers to fill in the gaps. Counsellors have a specific remit – to counsel. Social workers are needed to work directly with clients and the community as well as to find resources needed to change circumstances. Apart from CSOs, social workers are also required in various agencies working in rehabilitation care, detention, etc.
Promote parenting education and awareness on social-emotional learning and mental health.
The need to build a culture of trust and passion to help one another and leave out the culture of having to help out of obligation.
Why is drug addiction always featured in the context of "mental health"? Was Bhutan doing enough? Speakers said that the relationship between mental health and drug addiction was an important aspect of mental health disorders. In many cases, individuals turn to substance abuse to cope with their mental health challenges. Therefore, it is crucial to recognise the underlying reasons behind drug addiction, rather than simply treating it as a separate issue from mental health.
As a society, Bhutan must acknowledge that mental health challenges are prevalent and individuals need proper support and resources to manage their conditions. We should focus on understanding the root causes of drug addiction and provide individuals with alternative coping mechanisms and resources to manage their mental health challenges.
Testimonials/Comments from the Audience
"The conversation has covered so many areas of interest and has really helped validate our work as clinical counselling students." 
Clinical counsellor trainee, KGUMBS
 "The conversation has made us realise we need to know more about how youth in conflict with the law or disadvantaged youth need support."
Law student interning in a CSO
"This (TDJ conversation) is an important avenue for us to advocate for support and to let people outside Thimphu know what the PEMA Center plans to do to bring people together."
Programme Officer, The PEMA Center
The conversation on 21st April will soon be available on TDJ's YouTube and Facebook pages.
Conversation at the Samtse College of Education on Monday, April 24th, 2023
On the morning of April 24, before the Druk Journal Conversation, a group of postgraduate and master's students engaged in a conversation with Dasho Kinley Dorji, editor of the Druk Journal. The purpose of the talk was for the students to gain insights from Dasho's views on writing.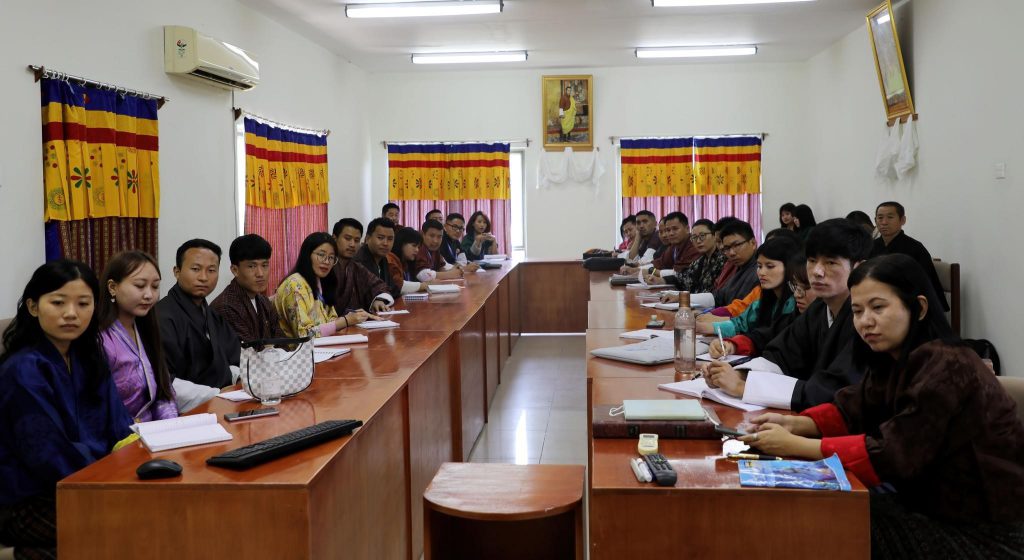 Five speakers who contributed to the journal spoke on their articles; Kezang Wangchuk for The Pema Secretariat, Dr. Dambar Kumar Nirola from JDWNRH, Tara Devi Labbar from KGUMSB, Siok Sian Pek-Dorji, and Lama Shenphen Zangpo. Prakash Pradhan (Ph.D.) was asked to present his insights on mental health as a Principal Counsellor at the Bhutan Qualifications and Professionals Certification Authority (BQPCA).
More than 330 students and faculty members of the Samtse College, Samtse Drangpoen, Dzongrab, officers of the Royal Bhutan Police, gups, principals, and teacher counsellors of schools in Samtse dzongkhag attended the conversation on mental well-being. Teacher-trainee counsellors were the primary audience for the seminar. As individuals who work closely with young people, teachers have a significant role to play in shaping and guiding their students. By hosting the conversation in Samtse and educating teacher-trainees on mental health, they are better equipped to identify and respond to mental health challenges that their students may face.
Dr. Damber K. Nirola, a psychiatrist at the Jigme Dorji Wangchuck National Referral Hospital highlighted the evolution of mental health services in Bhutan. He spoke about his initial experience as a medical doctor and challenges in the medical field while extending services to patients with mental illness. He advocated the need for mental health awareness and support from relevant agencies.
Siok Sian Pek-Dorji presented a report analysis carried out by the Thimthrom in Thimphu schools covering 24,036 students in 33 schools, delving into the psycho-social well-being situation in schools. The study confirms that the common mental health conditions among youth include depression, anxiety, panic attack, social anxiety, ADHD, PTSD, bi-polar disorder, and OCD. She concluded with an emphasis on the need for collaborative efforts among the teachers, parents, schools, friends, and the community at large to address the increasing phenomenon of mental health problems in the country. Parenting and community environments have a big role to play in fostering mental well-being.
Prakash Pradhan, Principal Counsellor at the Bhutan Qualifications and Professionals Certification Authority (BQPCA), highlighted the meaning and myths about mental health and helped to dispel any misconceptions related to mental health thus bringing much clarity to the issue at hand.
Summary of recommendations and suggestions from the speakers and audience 
Educational centres, and schools can make mental health a daily conversation topic and help break the stereotypes and discriminatory attitudes towards persons seeking help for mental health issues.
Conversations about mental health must include parents and family members.
Mental Health is treatable and suicide is preventable.
The need to cut across all sectors and to work collaboratively to address anxiety, depression, and other more serious mental health issues. Apart from medical care, there's a need for healthy recreation and safe environments to promote physical health and mental well-being in the family and neighbourhoods.
The Samtse Drangpon recommended a more collaborative and restorative approach to treating drug addiction with necessary policy changes in the existing system.
Testimonials/Comments from the Audience
"It's given me a deeper insight into the social issues behind many cases, thanks for including us in this conversation."
Officer in charge, Royal Bhutan Police, Samtse
"Mental well-being is an issue that Samtse dzongkhag will need to address as a priority considering the high rates of self-harm cases compared to other parts of the country. The Journal Conversation would have alerted and reinforced the participants' understanding and importance of mental health and well-being and the need to intervene collaboratively."
Rinchen Dorji (Ph.D.), President, Samtse College of Education
"The conversation was incredibly informative as it took an intersectional approach by having speakers from multiple relevant agencies. The conference helped us gain insights into the current state of mental health issues in the nation and the efforts being pushed to improve it. Of particular interest was the information we got from The Pema Secretariat and their ideas to streamline the process of different organisations which were previously running independently."
Ngawang Tenzin, PG in Contemplative Counselling Psychology student
Background:
The Druk Journal is a journal of thoughts and ideas focussing on issues of importance to Bhutan. Past issues have covered National Identity, Modernity, Youth matters and youth aspirations, concerns, and mandate, Transforming the Economy, Post-Covid Bhutan, etc. Our issues for 2022 were on Democracy today and Local Government. You may order these past issues and also subscribe for a copy of the journal at the website www.drukjournal.bt. Copies are available in the local public library. Check out the Druk Journal today.