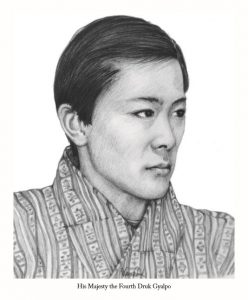 The launch of the Druk Journal is dedicated to the fourth Druk Gyalpo, His Majesty Jigme Singye Wangchuck, as the nation celebrates the Diamond Jubilee of his birth date.
During his reign, His Majesty incarnated the profound values that made it possible for the Kingdom of Bhutan to emerge from the past, enter the present, and anticipate an exciting future, the goal being the deep and abiding contentment of the Bhutanese people. His Majesty's gift to future generations of Bhutanese is the strengthening of our sovereign nation state built on the foundation of the Constitution of the Kingdom of Bhutan.
In a world beset by uncertainties, His Majesty inspired a development philosophy that has, as its objective, the happiness of people living in harmony with the earth. The values enshrined in His Majesty's legacy of Gross National Happiness include a creative perception of human development and commitment to the well being of all life forms. Such a legacy challenges us to find the clarity to bring this vision to life.
The Druk Journal will pursue His Majesty's vision by encouraging inspired reflection on our national objectives and the policies we need to achieve them. We dedicate ourselves, through these pages, in a modest attempt to contribute to the fulfillment of His Majesty's aspirations for our nation and our people.
Introduction
Each edition of The Druk Journal will focus on a particular theme. The focus of this first issue is "Identity", most especially the exploration of the question of what it means to be a Bhutanese. We chose this topic because of the importance of thinking about national identity in an age in which the processes of globalisation seem to be modifying if not actually drowning out the essential qualities that constitute the identity of individual nations. Successive issues of the Journal may focus on agricultural policy, industrialisation, international relations, etc. We hope our readers and the broader community will suggest topics that they consider to be important subjects for public conversation.
The Druk Journal is a nonpartisan publication. Our purpose is to serve the national interest through the development of serious conversation about policy from every possible constructive point of view. We have no editorial position of our own. We believe that our stated objectives and the means we will use to achieve them are the best way in which we can serve our country and His Majesty the King.
In this spirit, we invite your participation and the participation of all interested citizens in this endeavour. We wish you Good Reading, Good Thinking, and Good Conversation.