Conversation Report: Politics and Elections in Bhutan
The Suja & Dzaw Conversation on the 18th issue of the Druk Journal on the theme "Politics and Elections in Bhutan" was held on 27th October, 2023. Around 40 participants including current and former members of the Parliament, students, and teachers from the National Institute for Science and Mind, officials from the Anti-corruption Commission and Department of Local Governance, civil society representatives, and members of the media attended the conversation. The live conversation recording is available on The Druk Journal and BCMD's Facebook page. About 450 people attended the online conversation.
Four speakers who contributed to this issue of TDJ shared their thoughts: Director Phub Dorji from the Election Commission of Bhutan, Lhaki Dolma (former member of the National Council of Bhutan), Tashi Dema (former journalist and a Phd student), and Tashi Dorji (former journalist and a Phd student). The Editor of TDJ, Dasho Kinley Dorji, moderated the conversation.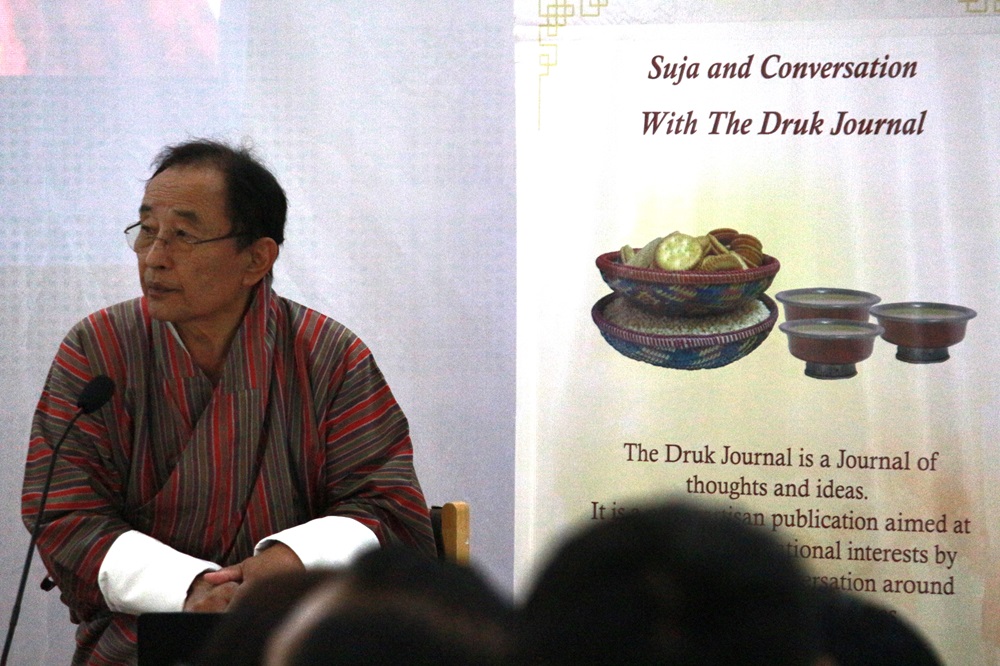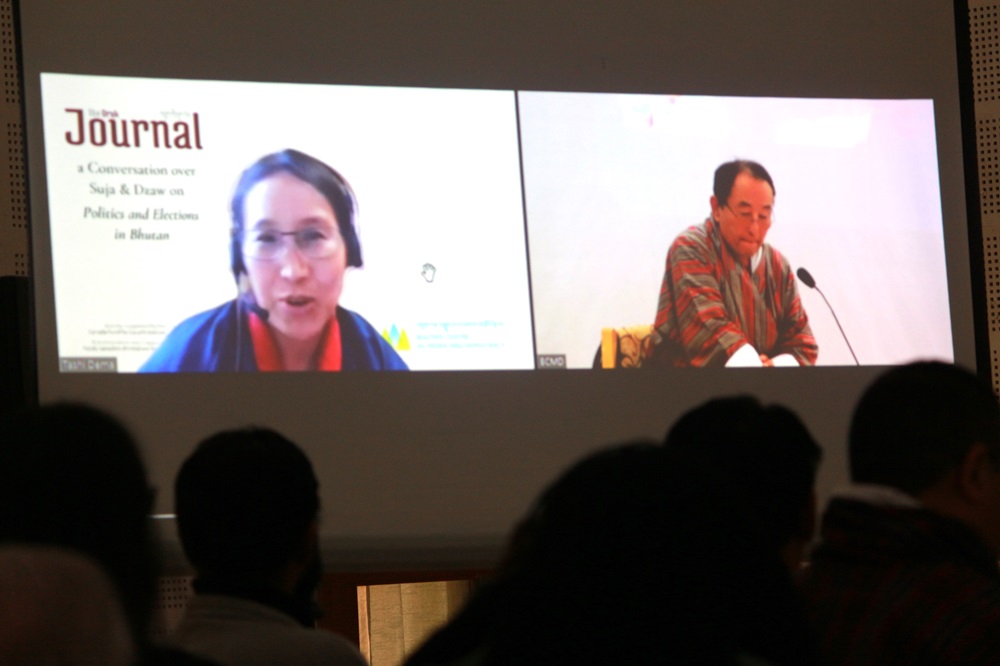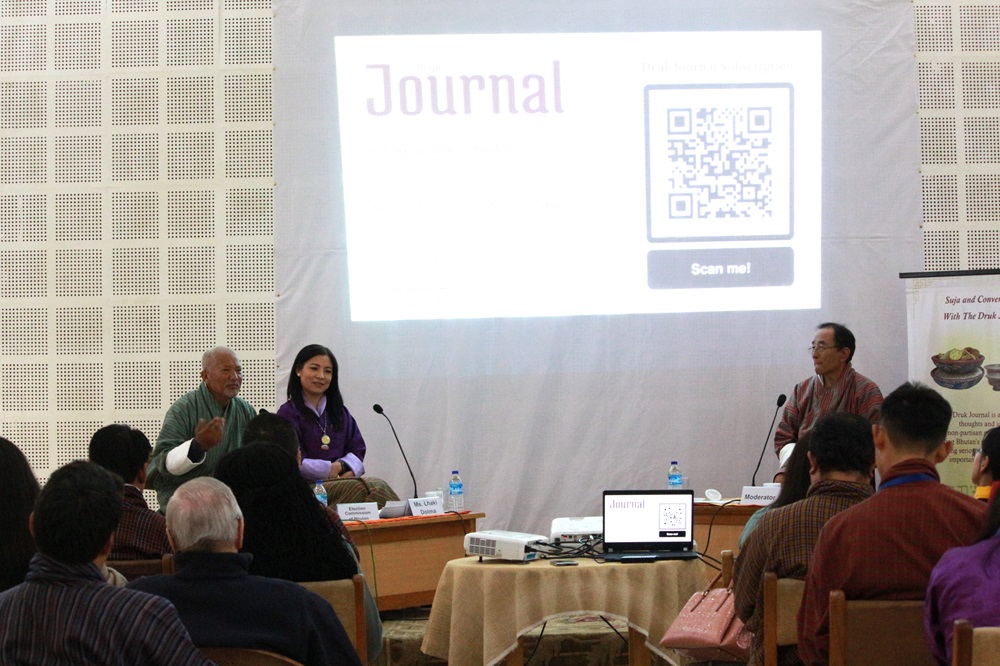 Speaker 1: Tashi Dorji, in his presentation, spoke about navigating uncertainties and the national wave of transformations. Tashi's focus in his article centered on the two prominent issues poised to dominate the upcoming elections, which are the two Es (Economy and
Emigration). The COVID-19 pandemic has left an overbearing influence on the country's economy, with trade deficits, uncertainties with the hydropower projects, and revision in the Tourism Act. Furthermore, the private sector in Bhutan faces one of its most daunting periods,
with State Owned Enterprises (SOEs) often perceived as direct competitors to private businesses. The increasing number of Bhutanese seeking better opportunities abroad through emigration is a growing national concern, yet there has been limited academic research to
comprehensively understand the underlying reasons for this trend. These transformations have brought in feelings of both uncertainties and hope for the people of Bhutan.
Speaker 2: Tashi Dema addressed the issue of the recent discontinuation of postal ballot facilitation for the Bhutanese diaspora. Emphasising Bhutan's status as an emerging democracy, Tashi underscored that this choice could disconnect Bhutanese citizens living abroad and its democratic processes. The Bhutanese diaspora is relatively small in comparison to other nations and the expenses associated with enabling postal ballot facilities are quite modest. Tashi also pointed out that allowing Bhutanese expatriates to vote could enhance the Election Commission of Bhutan's (ECB) efforts to promote increased engagement and participation in the country's democratic system. Additionally, she highlighted inconsistencies in the interpretation and implementation of the Postal Ballot Act by the ECB.
Speaker 3: Lhaki Dolma, a former National Council member, expressed her gender perspectives and recounted her experiences throughout her political journey. She discussed how preconceived stereotypes and traditional gender roles can act as obstacles for women in leadership positions. Lhaki shared personal anecdotes from her time as a parliament member, including the criticisms she faced on social media for actions such as bringing her baby along during constituency visits. She pointed out the need for women to work harder to get to
leadership positions and that Bhutan's democracy is too young at the moment for us to make any conclusion on gender balance and participation in politics. "We have a long way to go, and I hope it improves," she said. Lhaki said that she is not in favor of the quota system but there should be a middle ground, where the ECB could take the initiative to revise the electoral law to increase the number of seats for women in political parties.
Speaker 4: Director Phub Dorji of the Election Commission of Bhutan responded to Ms. Tashi's comments by highlighting that the Bhutanese Constitution explicitly requires every individual to physically visit their constituency to cast their vote and maintain ongoing engagement with their local community. He also emphasised that very few Bhutanese voters living abroad registered using postal ballots in the previous election, indicating that the Election Commission of Bhutan (ECB) has consistently made these services available to Bhutanese residing abroad, but they may not have fully used these opportunities. He gave the example of 600 voters registering for the NC postal ballots but only 100 of them voted. On the gender issues, the Director noted that there is no overt discrimination against women in politics in Bhutanese society although there is a need to reach and encourage women to come forward to participate in elections.
Summary of recommendations and suggestions from the speakers and audience
● In response to the discussion around postal ballot facilitation for the Bhutanese diaspora, an individual from the audience asked, "Why does someone on whom the government has no impact have the right to vote and choose the government in Bhutan?"
● There is a need to foster a sense of connection to Bhutan among its citizens, irrespective of their location, given the increasing number of Bhutanese seeking better opportunities abroad and a declining birth rate.
● The Election Commission of Bhutan could explore potential collaborations with Bhutanese Associations or Bhutanese Students Associations abroad to facilitate postal ballot services for Bhutanese residing overseas.
● Is a multiparty system of democracy the appropriate choice for a small nation like Bhutan because having a multiparty system requires division and division causes conflict and conflict inevitably creates disharmony.
● The importance of educating the youth about the democratic process within the country. The substantial number of youth leaving the nation and forfeiting their postal ballot voting rights could eventually lead to their disconnection from Bhutan.
● Despite Bhutan's claim of no gender discrimination, there is a shortage of female candidates in politics. Oversight agencies such as the Election Commission of Bhutan (ECB), educational institutions, and civil society organisations must intensify efforts to promote gender-balanced leadership in the country.
● Certain institutions or agencies should conduct an in-depth study to understand the reasons why few women come forward to participate in politics.
Background:
The Druk Journal is a journal of thoughts and ideas focussing on issues of importance to Bhutan. Each edition of the journal is accompanied by conversations on the theme – with an aim to trigger public discourse on matters of importance. This current issue of the journal on "Politics and Elections in Bhutan" will be released in November.
Past issues have covered National Identity, Modernity, Youth matters and Youth aspirations, concerns, and mandates, Transforming the Economy, Post-Covid Bhutan, Democracy Today, etc. Our issues for 2022 were on Democracy today and Local Government. You may order
these past issues and also subscribe for a copy of the journal at the website www.drukjournal.bt. Copies are available in the local public library.